Take a fun airboat ride and get free admission to our Animal Sanctuary where you'll see plenty of alligators and other Everglades animals!
Get a Mangrove Airboat Tour, free Alligator Hugs, a free Alligator Show, and a free visit to our Animal Sanctuary.
Our airboat dock is handicap accessible, but wheelchairs can't be loaded onto the airboat. If anyone in your party is using a wheelchair, please be sure they can move from the wheelchair onto the airboat.
Our mangrove airboat tour delivers an hour of fun for the whole family! You'll feel the wind in your face as you skim the surface of the water, zipping through twisting mangrove tunnels. You'll see unique Everglades plants and animals. Your captain will entertain you with stories, folklore, history, and fun animal facts.
Mangrove airboat tours run 365 days a year between 9:00 a.m. and 4:00 p.m. Tours last about an hour. Book online to reserve a time.
Alligators & Animals Free with Online Booking
Alligator Show
Get up close! Our experienced alligator handlers put on a live alligator show in our Animal Sanctuary every hour. Learn everything you wanted to know about these powerful creatures!
Alligator Hugs
Relatives back home will love seeing a picture of you or your kids hugging a baby alligator in our Animal Sanctuary. Bring your camera!
"The kids loved it! The youngest got to hold a baby alligator. What a thrill! Everyone had a great time and I know the grandkids had some great stories to take back home." - Jesse B.
More TripAdvisor Reviews
"This tour is entertaining and educational, which makes it perfect for family, friends, couples, even solo travelers. I'm looking forward to going again! Yes, it is that good!" – Ella P.
More Yelp Reviews
Why Choose Captain Jack's?
Safety
Your safety is our priority. Our boat captains are licensed by the US Coast Guard and our boats are regularly maintained.
Headsets
We provide 2-way headsets so you can learn exciting Everglades facts, ask your expert captain questions, and talk to fellow passengers!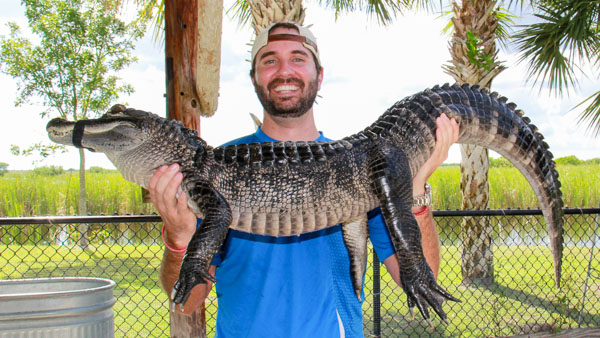 Alligators!
Watch a live alligator show, hug a baby alligator, and visit our Animal Sanctuary, home to hundreds of animals. Learn More »
Get a $3.33 discount, free Alligator Hugs, and free admission to our alligator show and Animal Sanctuary when you sign up for our email newsletter!
We'll email the Mangrove Airboat Tour coupon to you: