Our animal sanctuary is home to rescued animals including lions, tigers, otters, turtles, crocodiles and over 100 alligators.
Live Alligator Show & Animal Sanctuary
Also in the Animal Sanctuary
Live Alligator Show
Get up close and personal with alligators! Our experienced alligator handlers put on a live alligator show in our Animal Sanctuary hourly from 10:00 am – 4:00 pm. You'll learn everything you wanted to know about alligators—what they eat, how many teeth they have, how big they get, how fast they move, and more.
Live Alligator Show
---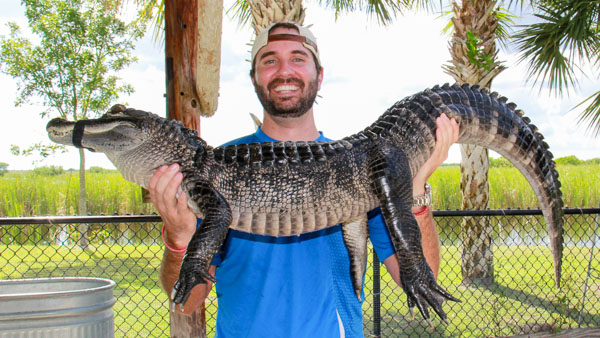 Alligator Hugs
Relatives back home will love seeing a picture of you or your kids hugging a baby alligator in our Animal Sanctuary. Don't forget to bring your camera!
Alligator Hugs
---
Admission to our Animal Sanctuary costs $9, but if you book any of our airboat tours online, you'll get free admission!
Our Animal Sanctuary includes hundreds of animals, plus a live hourly alligator show and alligator hugs.
See All Airboat Tours