There's no better way to get up-close and personal with alligators than to watch one of our professional alligator handlers put on a live alligator show right in front of you.
It takes about 15-30 minutes to watch the alligator show. All ages are welcome, and the show is handicap accessible. Live alligator shows start every hour between 10:00 a.m. and 4:00 p.m, with the last show starting at 4:00 pm, 365 days a year.
Live Alligator Show & Animal Sanctuary
Don't Forget to Hug an Alligator!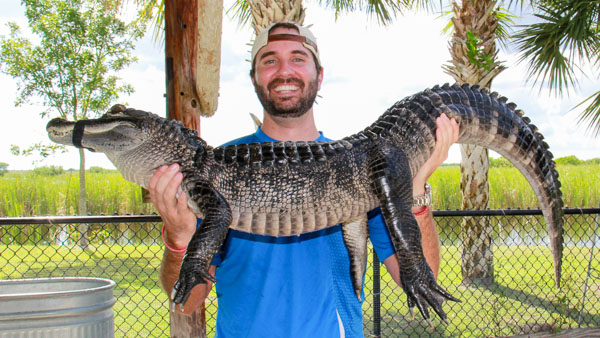 Alligator Hugs
Relatives back home will love seeing a picture of you or your kids hugging a baby alligator in our Animal Sanctuary. Don't forget to bring your camera!
Alligator Hug Photos
Admission to our Animal Sanctuary costs $9, but if you book any of our airboat tours online, you'll get free admission!
Our Animal Sanctuary includes hundreds of animals, plus a live hourly alligator show and alligator hugs.
See All Airboat Tours